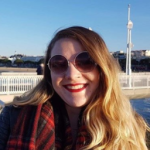 Lauriane LE BOUEDEC ARHUERO
東京都豊島区
一言PR
Young lively and cheerful French girl!
企業情報・自己紹介
Hello, my name is Lauriane. I am a french 23 years old girl on working holiday in Japan. I am very lively and I love to talk to new people. I love to teach new skills to people. I would love to teach French to anyone who is interested in the French language and/or culture. I can simply talk to you in French or I can help you with your French papers whether it is for tourism or for exams. I can also teach you about the French way of life if that is what you are interested in. I am available almost any day of the week (day or evening on weekdays and only during the day on weekends). I offer french lessons at 3000¥ per hour. I can only teach at a cafe or at your place. Learn French with a French girl !
経歴・資格
I have no experience in teaching. However, I am used to learn and explain things to my friends when needed.
お仕事で心がけていること
I love to help people to learn new skills. I have no textbooks but I can recommend you french books or movies if you want to improve your French. If you hire me I can simply be conversational, it can be held with papers, or it can be real lessons such as grammar points or themes vocabulary lessons.